ACC Club News
Our newswire covers club news and local tournaments as well as any particularly unique or interesting chess articles, videos and other items from around the web. We leave coverage of most other national and international events to TWIC, Chessbase and others, though we do cover really big events.
ACC Online:
For regular club news and announcements, send an e-mail to chrisney2@gmail.com to receive our semi-monthly newsletter.
NOTE: Have you read a poorly written sentence? Find a bad link? Are we missing important material? Please raise these issues with us at: chrisney2@gmail.com.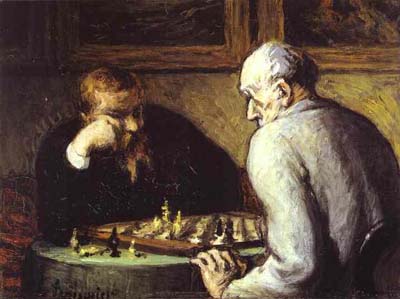 July 6, 2017
Garry Kasparov returns to chess for US tournament; By Staff; Guardian
Former world chess champion Garry Kasparov is coming out of retirement to play in a US tournament next month, organisers have said. Kasparov, who dominated chess for more than 15 years, will compete against nine top players in St Louis, Missouri. "Ready to see if I remember how to move the pieces! Will I be able to announce my re-retirement afterwards if not?!," Kasparov tweeted sardonically.
July 6, 2017
Exercises in style: from Steinitz to Carlsen; By Johannes Fischer; ChessBase
World Champions have style. At least, this is often claimed. Kasparov loved to attack, Karpov excelled in prophylaxis, Capablanca liked positional play crowned by a "petite combinaison", Tal loved intuitive sacrifices while Botvinnik preferred clear strategic plans. But do you recognize the style of the World Champions when you see only the moves of their games? Try it out!
July 5, 2017
Pattern recognition and pawn structures; By Matthew Sadler; ChessBase from NIC
In the recent issue of New in Chess magazine GM Matthew Sadler, having switched jobs and looking for a low-effort way to keep his feeling for chess alive, watched some ChessBase DVDs on positional themes. He started with Sergei Tiviakov and progressed to Adrian Mikhalchishin, whom he calls "an entertaining and lively host ... who kept me thoroughly entertained all through the many hours of content. He does however make tactical mistakes, caused by the author's unbridled enthusiasm. Still: definitely a series worth consideration.
July 4, 2017
Bobby Fischer in Iceland – 45 years ago; By Frederic Friedel; ChessBase
In the final week of June 1972 the chess world was in turmoil. The match between World Champion Boris Spassky and his challenger Bobby Fischer was scheduled to begin, in the Icelandic capital of Reykjavik, on July 1st. But there was no sign of Fischer. The opening ceremony took place without him, and the first game, scheduled for July 2nd, was postponed. Then finally, in the early hours of July 4th, Fischer arrived. Frederic Friedel narrates.
July 2, 2017
When Chess Legends Play Against Their Own Openings; By Gregory Serper; Chess.com
There are many openings in chess that were named after chess players who invented or make them popular. But what happens when such a chess player is forced to play against his own opening? When we study such games we can expect some opening revelations because who knows how to refute an opening better than the inventor himself?
June 29, 2017
I'm Still Passionate About Squares; By Jeremy Silman; Chess.com
In my first "Passionate About Squares" article I demonstrated how important it is to create weak squares in the enemy camp (often referred to as "holes"). In many cases putting one's pieces (knights in particular) on these holes give you a serious positional plus. However, the piece living in the weak square is sometimes so powerful (think of Zeus throwing lightning bolts) that it convinces the whole army to start an attack against the enemy king.
June 25, 2017
Kramnik on Carlsen's slump & the Candidates Race; By Colin McGourty; Chess24
Vladimir Kramnik turned 42 today, and the former World Champion did so as the no. 2 rated player on the live rating list after beating World Champion Magnus Carlsen in Altibox Norway Chess. In an interview afterwards he talked about the slump in form of both Magnus and his recent challenger Sergey Karjakin and also discussed his own hopes of qualifying for another World Championship match.
June 22, 2017
I'm Passionate About Squares; By Jeremy Silman; Chess.com
Many chess players have a limited understanding of the game. They think it's all about mating the enemy king. They think it's all about tactics and attack. They think it's about creating threats. Of course, all these things are indeed part of chess, but there is so much more. And it's these "other" things that turn a random "threat and tactics" player into a person who stands above the masses.
June 20, 2017
Kasparov on hand for Paris Grand Chess Tour launch; By Colin McGourty; Chess24
Garry Kasparov was again on hand as the 2017 Grand Chess Tour was launched in Paris on Tuesday. Magnus Carlsen tops the 10-player field for the Paris stage of the series, where he'll face tough competition from tour regulars Nakamura, So, MVL, Karjakin and Caruana as well as wildcards Grischuk, Mamedyarov, Topalov and Bacrot. Three days of rapid chess begin on Wednesday to be followed by blitz over the weekend, with $150,000 and tour points at stake.
June 20, 2017
Chess moves help Iraqi refugees; By Robert Cole; ChessBase
For over a year the city of Mosul, a major city in northern Iraq, has been under siege by the Iraqi army, which is trying to dislodge the militant forces of ISIS. The civil population is suffering unimaginable horrors, with 100,000 currently trapped in the final assault of the Old City. To help refugees overcome trauma and grief the British NGO AMAR arranged a three-day chess encounter with two Azerbaijani grandmasters in Dohuk, less than 75 kilometres from Mosul.
June 20, 2017
Interview: 12-yr old Nihal Sarin; John-Paul Wallace; ChessBase from Chess Magazine
"I had the pleasure of first meeting Nihal in Stockholm at the end of last year," writes John-Paul Wallace. "He looked even younger than his tender age of 12, but it was immediately clear that he was a powerful chess player. A few days after this event I conducted a Skype interview with Nihal. As I think you will see, he is a very humble young man and undoubtedly he has a fantastic future ahead of him. I wish him all the best!" Interview in the June issue of CHESS Magazine.
June 17, 2017
Bringing a smile on the faces of children with disabilities; By Polina Torochkova; ChessBase
When the second leg of the FIDE Grand Prix 2017 was in progress in Moscow, a group of children with disabilities visited the playing venue at the Central Telegraph building on 19th of May. They saw all the top players in action and then got a chance to play the FIDE president Kirsan Ilyumzhinov and GM Alexander Motylev in a simultaneous exhibition."
June 16, 2017
Jon Speelman's Agony Column #54; By Jonathan Speelman; ChessBase
This week's games come from Jim Guill who is 61 and retired in 2015. A USCF A grade player (i.e. between 1800 and 1999) he lives in Virginia and plays for the team Morphy's Mojo, which is entered in both the D.C. Chess League and the Northern Virginia (NVA) Chess League. He hangs out in local, Northern Va coffee shops, "where I sip tea, study chess and observe alien culture (i.e., the non-chess playing world) as it comes and goes and passes by."
June 1, 2017
Bisguier's Greatest Hits; By Jeremy Silman; Chess.com
Quite a few obituaries have appeared, so I'm not going to do a study on Bisguier's life. And, for personal details, I feel that his close friends are better suited for that task. What I will do is immerse you in some of his most interesting games. After all, his fame is all about his very creative chess, so let's enjoy Bisguier the chess player.
May 31, 2017
Fedoseev on crossing the 2700 barrier; By Staff; Chess24
22-year-old Russian Grandmaster Vladimir Fedoseev has had a great year – he won the Aeroflot Open and qualified to face Kramnik, MVL and co. in Dortmund, came very close to winning both the Winter Chess Classic in St. Louis and the GRENKE Open and then starred for his team in the Russian Team Championship, where he crossed the 2700 barrier for the first time. IM Dorsa Derakhshani talked to the young star before his appearance in the European Championship.
May 30, 2017
Memory Techniques: An Introduction; By David Fadul; ChessBase
Have you ever read about some genius who seemingly had a memory reserved for movies or fiction? Have you ever wished you had some of that, even if you have a good memory now, or can barely remember the number of your mobile phone? The fact is that these seemingly impossible feats are well within the grasp of anyone, if they learn some basic techniques of memorization. Here is an introduction.
May 29, 2017
Chess Informant: Jubilee of Chess Studies; By Yochanan Afek; ChessBase
Older readers will remember it well: for decades the Chess Informant – Šahovski Informator – was a lifeline for serious chess players. Two, later three issues per year provided a selection of games and top-grade analysis. Garry Kasparov, Anatoly Karpov, Vladimir Kramnik, and Viswanathan Anand have all said that the Informant was central to their tournament preparation. Now, after 50 years of publication, we are treated to a Jubilee Tournament of chess studies, which we bring you with the kind permission of Tourney Director Yochanan Afek.
May 27, 2017
Kupreichik: a chess eulogy; By Alex Yermolinksy; ChessBase
The unforgettable Viktor Kupreichik passed away a few days ago at the age of 68, and with him one of the greatest creative minds in chess passed away as well. Alex Yermolinsky readily admits he was one of his fans from an early age, and later had the chance to face him over the board. Instead of trying to neutralize Kupreichik's wild play, he invited it, leading to a game he explains "is so insane I can't even annotate it properly." Have fun!
May 24, 2017
How do chess engines think?; By Pepe Cuenca; Chess24
It's rare to find a chess player unaccompanied by a chess-engine equipped computer during tournaments or training sessions at home. Gone are the days when in order to analyse a complicated position various grandmasters needed to spend hours and even days to try and get to the bottom of things – often without success. Nowadays it's a matter of seconds for the "machine" to tell us the best move in any position more reliably than the World Champion Magnus Carlsen himself could manage. In this article we're going to try and understand how engines function and the way in which they think. That means talking about some mathematical concepts, principally algorithms.
May 24, 2017
Paul Morphy: how good was he really?; By Johannes Fischer; ChessBase
Did you ever wonder who was or is the best player of all time? Who would win if all 16 World Champions, Philidor, Labourdonnais, Anderssen and Morphy could play against each other in a tournament? How would Steinitz, Lasker or Capablanca cope against the best players from today? Such questions have no answer, of course, but are hotly debated.
May 24, 2017
Botvinnik and the Pirc/Modern; By Alex Yermolinksy; ChessBase
Continuing his look at how champions began to include new openings later in their careers, the tireless student of the game, GM Alex Yermolinsky, looks at Mikhail Botvinnik, 'The Patriarch', and his employment of the Pirc-Modern defense. He also shares his first encounter with the great player as a junior, speculates on what a Botvinnik-Fischer match would have looked like, and even mentions his secret match with Gata Kamsky when he was 14. Enjoy this great article!
May 22, 2017
Paul Keres VII: Last chance in Curaçao; By Staff; Chess24
When Paul Keres was asked where he came closest to reaching a World Championship match against Mikhail Botvinnik, he responded "Curaçao", referring to the 8-player, 28-round Candidates Tournament played on the Caribbean island in 1962. 46-year-old Keres went in to the penultimate round tied for first, but would once again finish second in a tournament infamous for Bobby Fischer's accusations of collusion among the Soviet players. Joosep Grents continues his series on the life of the great Estonian player.
May 10, 2017
Garry Kasparov on A.I., Chess, and the Future of Creativity; By Tyler Cowen; Mercatus Center Podcast
The chess grandmaster, political activist, and author joins Tyler for a conversation on artificial intelligence, Russia, Putin, how education must change, favorite cities for chess, the most likely challenger to Magnus Carlsen, Tolstoy v. Dostoevsky, the benefits of pressure for performance, and why we should speed up our search for new frontiers and challenges.
May 9, 2017
Using your home chess engine anytime, anywhere; By Albert Silver; ChessBase
Recently, a grandmaster was explaining that one of the biggest problems when travelling was that analyzing on his laptop would eat up his battery in an hour or two at most. When asked why he didn't just connect to his desktop, he said he was not a 'computer whiz' like some. Do you sympathize with him? If so, learn how incredibly easy it is to set this up with Fritz or ChessBase so you can access your personal desktop anytime, anywhere.
May 8, 2017
Returning to Reyjavik; by Alina L'Ami; ChessBase
There is clearly something that works in the formula of the Reykjavik Open, which continues to attract a wide range of players every year, from the world's elite such as Giri, Andreikin, and Jobava this year, to rank amateurs who pack the venue. Looking back at the tournament and locale is Alina L'Ami in her report with games, quiz positions and of course high-res photos!
May 7, 2017
Trump protesters clash with chess players; By Albert Silver; ChessBase
Readers may recall the astonishing accusations leveraged against Mihaela Sandu during the 2015 European Championship, after her great start, in which 15 players filed a letter of petition accusing Sandu of cheating, and requesting her games alone not be broadcast. Needless to say, computer analysis in no way backed their claims, and Sandu filed an official complaint against her accusers. The FIDE Ethics Commission has published its results.
May 5, 2017
Trump protesters clash with chess players; by Vanessa Sun; ChessBase
To be fair, the clash was not meant to be a direct confrontation, but chess players at Union Square were caught in the middle of a clash between protesters, and found their games interrupted with tables tossed and chess pieces sent flying, in spite of trying to stay apart from the angry banner bearers. Still, the community showed its spirit as a couple of Good Samaritans came to the rescue, and replaced the missing or destroyed material.
May 5, 2017
Forbes: Making A Living In Chess; by Albert Silver; ChessBase
It is not unusual to see chess appear in the mainstream press, but the topics are usually on either a scandal, a player profile, or a singular event such as the World Championship. Forbes published an interesting article regarding the state of professionalism in chess, making a living, and how the internet has opened doors not just for fans but working pros. Here are excerpts and a a video report.
May 5, 2017
Ivanchuk: "I'd like to play Bobby Fischer"; by Colin McGourty; Chess24
Vassily Ivanchuk won the World Rapid Championship at the turn of the year, recently beat Hou Yifan in a match and will play in the Capablanca Memorial later this month. In an interview with the Ukrainian Sport-Express he talked about his victory in Doha, how he now combines chess tournaments with checkers, his problems with losing on time and which of the World Champions he would most like to meet.
ARCHIVES: Older Articles Have ... Moved.