ACC Club News
Our newswire covers club news and local tournaments as well as any particularly unique or interesting chess articles, videos and other items from around the web. We leave coverage of most other national and international events to TWIC, Chessbase and others, though we do cover really big events.
ACC Online:
For regular club news and announcements, send an e-mail to chrisney2@gmail.com to receive our semi-monthly newsletter.
NOTE: Have you read a poorly written sentence? Find a bad link? Are we missing important material? Please raise these issues with us at: chrisney2@gmail.com.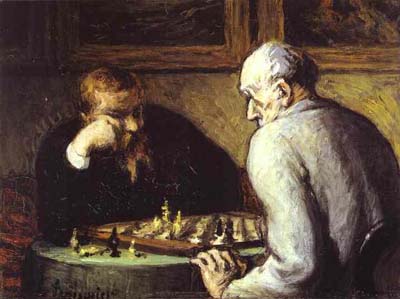 May 31, 2017
Fedoseev on crossing the 2700 barrier; By Staff; Chess24
22-year-old Russian Grandmaster Vladimir Fedoseev has had a great year – he won the Aeroflot Open and qualified to face Kramnik, MVL and co. in Dortmund, came very close to winning both the Winter Chess Classic in St. Louis and the GRENKE Open and then starred for his team in the Russian Team Championship, where he crossed the 2700 barrier for the first time. IM Dorsa Derakhshani talked to the young star before his appearance in the European Championship.
May 30, 2017
Memory Techniques: An Introduction; By David Fadul; ChessBase
Have you ever read about some genius who seemingly had a memory reserved for movies or fiction? Have you ever wished you had some of that, even if you have a good memory now, or can barely remember the number of your mobile phone? The fact is that these seemingly impossible feats are well within the grasp of anyone, if they learn some basic techniques of memorization. Here is an introduction.
May 29, 2017
Chess Informant: Jubilee of Chess Studies; By Yochanan Afek; ChessBase
Older readers will remember it well: for decades the Chess Informant – Šahovski Informator – was a lifeline for serious chess players. Two, later three issues per year provided a selection of games and top-grade analysis. Garry Kasparov, Anatoly Karpov, Vladimir Kramnik, and Viswanathan Anand have all said that the Informant was central to their tournament preparation. Now, after 50 years of publication, we are treated to a Jubilee Tournament of chess studies, which we bring you with the kind permission of Tourney Director Yochanan Afek.
May 27, 2017
Kupreichik: a chess eulogy; By Alex Yermolinksy; ChessBase
The unforgettable Viktor Kupreichik passed away a few days ago at the age of 68, and with him one of the greatest creative minds in chess passed away as well. Alex Yermolinsky readily admits he was one of his fans from an early age, and later had the chance to face him over the board. Instead of trying to neutralize Kupreichik's wild play, he invited it, leading to a game he explains "is so insane I can't even annotate it properly." Have fun!
May 24, 2017
How do chess engines think?; By Pepe Cuenca; Chess24
It's rare to find a chess player unaccompanied by a chess-engine equipped computer during tournaments or training sessions at home. Gone are the days when in order to analyse a complicated position various grandmasters needed to spend hours and even days to try and get to the bottom of things – often without success. Nowadays it's a matter of seconds for the "machine" to tell us the best move in any position more reliably than the World Champion Magnus Carlsen himself could manage. In this article we're going to try and understand how engines function and the way in which they think. That means talking about some mathematical concepts, principally algorithms.
May 24, 2017
Paul Morphy: how good was he really?; By Johannes Fischer; ChessBase
Did you ever wonder who was or is the best player of all time? Who would win if all 16 World Champions, Philidor, Labourdonnais, Anderssen and Morphy could play against each other in a tournament? How would Steinitz, Lasker or Capablanca cope against the best players from today? Such questions have no answer, of course, but are hotly debated.
May 24, 2017
Botvinnik and the Pirc/Modern; By Alex Yermolinksy; ChessBase
Continuing his look at how champions began to include new openings later in their careers, the tireless student of the game, GM Alex Yermolinsky, looks at Mikhail Botvinnik, 'The Patriarch', and his employment of the Pirc-Modern defense. He also shares his first encounter with the great player as a junior, speculates on what a Botvinnik-Fischer match would have looked like, and even mentions his secret match with Gata Kamsky when he was 14. Enjoy this great article!
May 22, 2017
Paul Keres VII: Last chance in Curaçao; By Staff; Chess24
When Paul Keres was asked where he came closest to reaching a World Championship match against Mikhail Botvinnik, he responded "Curaçao", referring to the 8-player, 28-round Candidates Tournament played on the Caribbean island in 1962. 46-year-old Keres went in to the penultimate round tied for first, but would once again finish second in a tournament infamous for Bobby Fischer's accusations of collusion among the Soviet players. Joosep Grents continues his series on the life of the great Estonian player.
May 10, 2017
Garry Kasparov on A.I., Chess, and the Future of Creativity; By Tyler Cowen; Mercatus Center Podcast
The chess grandmaster, political activist, and author joins Tyler for a conversation on artificial intelligence, Russia, Putin, how education must change, favorite cities for chess, the most likely challenger to Magnus Carlsen, Tolstoy v. Dostoevsky, the benefits of pressure for performance, and why we should speed up our search for new frontiers and challenges.
May 9, 2017
Using your home chess engine anytime, anywhere; By Albert Silver; ChessBase
Recently, a grandmaster was explaining that one of the biggest problems when travelling was that analyzing on his laptop would eat up his battery in an hour or two at most. When asked why he didn't just connect to his desktop, he said he was not a 'computer whiz' like some. Do you sympathize with him? If so, learn how incredibly easy it is to set this up with Fritz or ChessBase so you can access your personal desktop anytime, anywhere.
May 8, 2017
Returning to Reyjavik; by Alina L'Ami; ChessBase
There is clearly something that works in the formula of the Reykjavik Open, which continues to attract a wide range of players every year, from the world's elite such as Giri, Andreikin, and Jobava this year, to rank amateurs who pack the venue. Looking back at the tournament and locale is Alina L'Ami in her report with games, quiz positions and of course high-res photos!
May 7, 2017
Trump protesters clash with chess players; By Albert Silver; ChessBase
Readers may recall the astonishing accusations leveraged against Mihaela Sandu during the 2015 European Championship, after her great start, in which 15 players filed a letter of petition accusing Sandu of cheating, and requesting her games alone not be broadcast. Needless to say, computer analysis in no way backed their claims, and Sandu filed an official complaint against her accusers. The FIDE Ethics Commission has published its results.
May 5, 2017
Trump protesters clash with chess players; by Vanessa Sun; ChessBase
To be fair, the clash was not meant to be a direct confrontation, but chess players at Union Square were caught in the middle of a clash between protesters, and found their games interrupted with tables tossed and chess pieces sent flying, in spite of trying to stay apart from the angry banner bearers. Still, the community showed its spirit as a couple of Good Samaritans came to the rescue, and replaced the missing or destroyed material.
May 5, 2017
Forbes: Making A Living In Chess; by Albert Silver; ChessBase
It is not unusual to see chess appear in the mainstream press, but the topics are usually on either a scandal, a player profile, or a singular event such as the World Championship. Forbes published an interesting article regarding the state of professionalism in chess, making a living, and how the internet has opened doors not just for fans but working pros. Here are excerpts and a a video report.
May 5, 2017
Ivanchuk: "I'd like to play Bobby Fischer"; by Colin McGourty; Chess24
Vassily Ivanchuk won the World Rapid Championship at the turn of the year, recently beat Hou Yifan in a match and will play in the Capablanca Memorial later this month. In an interview with the Ukrainian Sport-Express he talked about his victory in Doha, how he now combines chess tournaments with checkers, his problems with losing on time and which of the World Champions he would most like to meet.
May 4, 2017
Sigeman returns after 3 year hiatus; by Staff; Chess24
Even long-established tournaments sometimes vanish, and that's what appeared to have happened to the Sigeman Chess Tournament in Sweden, which last took place in 2014 after more than 20 years as a fixture on the chess calendar. But now the event is being revived along with a new corporate partner TePe. Now dubbed the TePe Sigeman & Co Chess Tournament, the format remains a short sprint — a 6-player single round robin played at the Hipp Theater in Malmo, from May 10th-14th. The lineup is an interesting generational and stylistic mix with Pavel Eljanov, Nigel Short, Baadur Jobava, Nils Grandelius, Erik Blomqvist and Harika Dronavalli
May 4, 2017
Scandle Over Dress Code in Malaysia; By Peter Long; ChessBase
By now everyone, even those who are not primarily interested in chess, knows the story: at the National Scholastic Chess Championship 2017 in Putrajaya, Malaysia, a 12-year-old girl was warned by the chief arbiter because of the "improper dress" she was wearing, which was deemed to be seductive and "a temptation from a certain angle". The girl, fairly traumatized, withdrew from the tournament and all hell broke out in the press, with many thousands of reports appearing in the international news portals. Peter Long has harsh words for the Malayian Chess Federation.
May 3, 2017
Learning from an epic endgame defense; by Albert Silver; ChessBase
When faced with a very bad or lost endgame, it is sometimes hard to muster the strength, much less the resources, to truly revert the situation. Yet that is what Hikaru Nakamura did, and against no less an expert than Vladimir Kramnik himself. Somehow the American found ways to keep it alive and justify playing on. Some of the resources he found smacked of black magic even. Here is a look at this epic endgame with detailed analysis by endgame expert GM Karsten Mueller.
May 1, 2017
The hour of the holy men; By Siegfried Hornecker; ChessBase
GM Jan Timman, in his work as a chess composer, is a fan of checkmates with the bishop. He may be pleased to see that we will be presenting studies where a bishop is the hero of the day – partly as a gift to Jan, whose 65th birthday composing tourney has as its theme "mate by the bishop or struggle against mate by the bishop". Todays three studies are by Soviet composers, one of whom perished tragically under Stalin. Fortunately (for the chess world) he handed his notebook to Mikhail Botvinnik before he disappeared.
April 27, 2017
Ranking chess players according to the quality of their moves; by Frederic Friedel; ChessBase
How do you rate players from different periods? An AI researcher has undertaken to do it based not on the results of the games, but on the quality of the moves played. Jean-Marc Alliot used a strong chess engine running on a 640 processor cluster to analyse over two million positions that occurred in 26,000 games of World Champions since Steinitz. From this he produced a table of probable results between players of different eras. Example: Carlsen would have beaten Smyslov 57:43.
April 25, 2017
Why Postal Chess Was Banned During Wartime ; by Daniel Oberhaus; Motherboard
The United States banned postal chess during WWII because it feared the game was being used to send secret messages. But how would this actually work?
April 25, 2017
The Link Between Chess and Options Trading; video; Bloomberg
Hikaru Nakamura, one of the top chess players in the world (number 7 right now), joined Bloomberg's Joe Weisenthal on "What'd You Miss?" to talk about using some of the same tactics in chess to trade options.
April 24, 2017
On human and computer intelligence in chess; by Frederic Friedel; ChessBase
In March there was an international furore over a chess position, published by famous mathematics professor Sir Roger Penrose. It purported to show a key difference between human and computer thinking, and have general implications for our understanding of Artificial Intelligence. The example was unconvincing, but as a reaction a number of chess players and AI researchers have sent us papers we want to share with you. We start with a challenge to humans and machines issued by GM Miguel Illescas.
April 23, 2017
Kasparov Chess Foundation promotes chess education in Asia; by Peter Long; ChessBase
In conjunction with the Kasparov Chess Foundation's 15th Anniversary Celebration, the Kasparov Chess Foundation Asia-Pacific proposed five activities as its contribution and four of them came together with a tour of four countries in Asia with the common theme of Chess in Education.
April 19, 2017
Morozevich: "There are players more talented than Carlsen"; by Colin McGourty; Chess24
Alexander Morozevich has somewhat dropped off the chess radar recently, but at his peak he was not only one of the most exciting and imaginative players in the world but reached no. 2 on the official FIDE rating list and no. 1 on the live list. He recently gave a lecture at his old university in Moscow, and also gave an interview where he talked about what makes Carlsen no. 1, gender differences in chess and how chess has changed for young players compared to when he was starting out.
April 16, 2017
Nihal Sarin announces his arrival; by Srinath Narayanan; ChessBase
Nihal Sarin has announced his arrival and how! It is true that he had already started making a name for himself as a dangerous 12-year-old boy who could crush you if you give him one small opportunity. But the TV2 Fagernes GM International saw the 12-year-old genius score his first GM norm, stay undefeated, smash a 2600 GM on the way, tie for second (take fourth place on the tiebreak), and play breathtaking chess. We have a report with grandmaster analysis of Nihal's games.
April 13, 2017
American Chess Magazine; Albert Silver; ChessBase
The second edition of the American Chess Magazine is out, and for those wondering whether this new foray into the challenging print chess magazine market could continue the promise of its first edition, the answer is a resounding yes. The main focus this time is of course the World Championship, but you will also find many fascinating articles, such as the tournament report on Nakamura's win in Gibraltar by... Hou Yifan!
April 11, 2017
US chess legend Arthur Bisguier passes at 87; by Frederic Friedel; ChessBase
He was recognized as the "Dean of American Chess" – in honor of his promotion of and many contributions to the game. During the 2017 US Championship, a title he had himself won 63 years earlier, this giant of chess, considered one of America's "most dangerous players", died of respiratory failure. He worked for decades for the United States Chess Federation and for its magazine Chess Life. There we find a touching eulogy.
April 11, 2017
Ilyumzhinov Loses Even More Power; Peter Doggers; Chess.com
Kirsan Ilyumzhinov is still the FIDE president, but all major powers are in the hands of deputy president Georgios Makropoulos. Yesterday's extraordinary presidential board meeting in Athens, described as "peaceful" by attendants, further confirmed Ilyumzhinov's weakened position. Chess.com interviewed the key players in Athens after the meeting concluded.
April 10, 2017
Stalemate in the FIDE power struggle?; By Frederic Friedel; Chessbase
After the turmoil of the past weeks – the official FIDE web site announced the resignation of its President, ollowed within hours by emphatic denials from Kirsan Ilyumzhinov – an Extraordinary Presidential Board meeting was held in Athens today. It was attended by Ilyumzhinov, Deputy President Georgios Makropoulos, and fourteen other voting members, representing a quorum. Ilyumzhinov apologized for making certain statements, and seems to remain in power. FIDE press release.
April 7, 2017
Alexander Grischuk: Chess is "just a game"; By Colin McGourty; Chess24
Alexander Grischuk hasn't been playing much of late – and is skipping the main events in the coming month – but he's been making it count. He won $54,000 in the Doha World Rapid and Blitz Championships and took first place in the first FIDE Grand Prix in Sharjah. In a recent interview he talked about how chess isn't "sacred" for him, how he's turned his back on poker and why he doesn't take an annual salary from the Russian Chess Federation.
April 7, 2017
Bobby Fischer on the Dick Cavett Show; By Johannes Fischer; Chessbase
Bobby Fischer's reclusiveness was legendary. But in 1971, before his Candidates Match against Tigran Petrosian, he was a guest of talkshow legend Dick Cavett. In 2008 a video of this show appeared on YouTube and by now it has more than a million views. Less known is the fact that Fischer appeared a second time on the Dick Cavett Show, this time before his match against Spassky. A video of this show was just published on YouTube.
April 6, 2017
Iconic Greenwich Village Chess Shop Perseveres; By Neil Giardino; NBC News 4 New York
The Chess Forum is steeped in history. The shop's yellowing walls are cluttered with framed photos of grand masters and the owner proudly displays vintage sets, including a civil war chess set with pieces representing the Union and Confederate armies. "This belongs in the Museum of Natural History," Imad Khachan, 52, said of his Greenwich Village business. "This is a dinosaur. But the appeal of it is that it's a dinosaur."
April 5, 2017
Ilyumzhinov announces $30 million 'Kirsan Fund' for chess; By Frederic Friedel; Chessbase
You know about the power struggle for control of the International Chess Federation FIDE, on which we have reported extensively. On the eve of his 55th birthday the embattled President made an clear attacking move: Kirsan Ilyumzhinov announced that he has registered a charitable foundation, the "Kirsan Fund", in the United States, and plans to invest 30 million dollars in its activities: Chess in Schools, Chess in villages, Chess in families and Chess for people with disabilities. "We set an ambitious task to bring the number of chess players to one billion."
April 1, 2017
Pal Benko: April Swindles – unusual chess problems; By GM Pal Benko; Chessbase
Eighty-eight – that is what the first two problems in the April 1st collection symbolize. That is the age of the composer, the indefatigable Pal Benko, who sent us five very unusual positions for this auspicious day. Do not expect to fire up the positions on your computer and press Ctrl-Alt-Del for engine assistance. Today you will have to think – you know, mobilize all that grey matter. And a fair bit of humour. We wish you fun and unusual enjoyment.
ARCHIVES: Older Articles Have ... Moved.