ACC Club News
Our newswire covers club news and local tournaments as well as any particularly unique or interesting chess articles, videos and other items from around the web. We leave coverage of most other national and international events to TWIC, Chessbase and others, though we do cover really big events.
ACC Online:
For regular club news and announcements, send an e-mail to chrisney2@gmail.com to receive our semi-monthly newsletter.
NOTE: Have you read a poorly written sentence? Find a bad link? Are we missing important material? Please raise these issues with us at: chrisney2@gmail.com.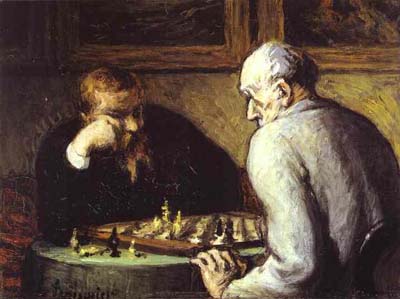 October 4, 2017
Karjakin: "I'm simply a fighter"; Colin McGourty; Chess24
Sergey Karjakin was knocked out of the Tbilisi World Cup by Daniil Dubov in Round 2, but says in a new interview that "part of me was glad", since it meant he could spend a full three weeks at home with his wife and their new son. His thoughts are already turning to the Candidates Tournament this March in Berlin, though, with Sergey estimating he'll need four months to prepare for the event. He also talks about fame in Russia and reveals Vladimir Kramnik and Anatoly Karpov both helped him before the World Championship match.
September 28, 2017
Investigating Hou's pairings; Albert Silver; ChessBase
There is a bit of déjà vu in the current controversy surrounding Hou Yifan's pairings Isle of Man. Readers will recall how Hou resigned her last round game in the Tradewise Gibraltar Masters after just five moves to protest what she felt had been manipulated pairings against women in seven out of nine rounds. Four rounds paired against women in the Chess.com Isle of Man International, was unnerving enough to lead her to take a fifth round bye. To set everyone's mind at ease, we investigated and share the results.
September 27, 2017
Forgetting our Intention; Amatzia Avni; CHESS Magazine
The practical point of this article is to minimise certain errors. Standard chess mistakes usually occur when a player misses a move or moves available to his adversary. FIDE Master Amatzia Avni, a psychologist by profession, focuses on mistakes that occur when you play a move without going back and rehearsing prior calculations and previous conclusions. Like Pal Benko in the 1962 Curacao Candidates, when he missed a clean draw against none other than Bobby Fischer when he forgot his original plan.
September 27, 2017
Hou mystified by pairings, sits out round five; Albert Silver; ChessBase
Since round four ended with the four leaders drawing their respective games, now seven share first with 3.5/4, from Magnus Carlsen to Alexander Lenderman. Hou Yifan, who faced her fourth consecutive female opponent, requested a half point bye in round 5, but contrary to rumour has no intention to withdraw for now.
September 26, 2017
Chess photography: Do's and Don'ts; Albert Silver; ChessBase
Photography, and notably chess photography, is a tricky thing, since on the one hand it seems so simple, while on the other it is clear some do it a lot better than others. You might be inclined to dismiss this as a matter of talent or expensive equipment, but the truth is one can do very well even with a smartphone following some basic rules of thumb.
September 24, 2017
Key Players Respond To Kovalyov Incident; Mike Klein; Chess.com
Two weeks after the most famous missing fabric in chess, the principal participants and some associated parties have responded. Mostly, they've dug in to their positions.
September 23, 2017
Armenian Lion vs Chinese Dragon and tour of Tbilisi; Sagar Shah; ChessBase
Both of them have qualified for the Candidates 2018 by reaching the finals of the World Cup 2017. But as Aronian put it, "The main goal has been achieved, how about a little bonus!" Winning a major event like FIDE World Cup would be a great addition to the resume. We have the statistics of previous encounters between Aronian and Ding Liren and also a poll for you to let us know your opinion. Finally, do not miss the rest day pictures of the Jvari monastery and Svetitskhoveli Cathedral.
September 23, 2017
Reconstructing Turing's "Paper Machine"; Frederic Friedel; ChessBase
Can you guess when the first chess program was written – relative to the invention of computers? Ten years later? Wrong. The great mathematician Alan Turing did it earlier than that. During the celebrations of his 100th anniversary, in Manchester, June 2012, Garry Kasparov and Frederic Friedel delivered a lecture on the reconstruction of the engine Turing had programmed. Now the process has been described in a scientific paper.
September 22, 2017
"All my life I try to improve my chess level"; Sagar Shah; ChessBase
Interviews with Vassily Ivanchuk are rare. The man is happy playing chess and would rather find new ideas, or indulge in a game of draughts, than answer questions from journalists. However, the chess world is always intrigued by his brilliance. They want to know more about him. At the World Cup in Tbilisi, Ivanchuk agreed for a short interview with ChessBase. In it he speaks about his World Cup performance, future plans, checkers, his inspiration for new ideas and whether he still would like to become the World Champion. Video with complete transcript.
September 21, 2017
Has The King's Indian Attack Been Forgotten?; Jeremy Silman; Chess.com
The Chess.com member Kingdom_chess2 asked: "Why is the King's Indian Attack less popular at the top level? Is there any specific reason?" I think the KIA is still quite popular in amateur chess. Regarding grandmaster chess, it's still seen at the highest levels. However, the tactics and tricks that used to blow Black out of the water are now known to everyone. Thus what was once a very dangerous line has pretty much been tamed (the mates from the past are now rare, and many games end up with a murky, though complex, kind of game).
September 15, 17, 2017
Grivas teaches: Rook vs Bishop; Efstratios Grivas; ChessBase
More installments:
Rd 4 World Cup
Still More
Like to earn some extra rating points? Or progress one more round in the World Cup? Last Friday in Tbilisi the young Hungarian GM Richard rapport drew our admiration by flawlessly winning a difficult endgame against Chinese GM Wei Yi. We reported on that fateful game, and now thankfully a top international chess trainer provides systematic instruction on how to play the rook vs bishop ending. Then in Round 4 of the FIDE World Cup, the endgame rook vs bishop occurred again, this time with a pawn each on the same side. The experienced Armenian Levon Aronian, currently number two in the world, decisively defeated the young Russian Daniil Dubov. Grivas tells us exactly how. Where did Grischuk go wrong and how could he have won? World-class trainer Efstratios Grivas show you how — and gives you the chance to win rating points in the process.
September 15, 2017
Noticing Change Or Opportunity On The Chessboard; Jeremy Silman; Chess.com
At the beginning of a game the professional chess player understands the ins and outs of the opening he plays which, of course, has been deeply studied. He knows where his pieces should be, he is well-versed about the pawn structure's needs, and he'll know if it's going to be a slow positional battle or a raw, vicious, tactical war. Of course, if his opponent makes a mistake or somehow changes the position's dynamics, then that slow positional battle might be tossed away and taken over by the hammer of Thor. Naturally, the same thing can happen in the middlegame. But, simply put, how can you notice change when it occurs? And how can you make use of opportunities if you're not looking?
September 14, 2017
CHESS Magazine: That missed draw; Jonathan Speelman; ChessBase
While reading the chess column in The Times, Jonathan Speelman realised that Wolfgang Unzicker might have drawn a famous opposite-coloured bishop endgame. It's one of a couple of opposite bishop endings 'The Patriarch' won by creating passed pawns on both flanks. There's a valuable lesson for you to learn from this article by Jonathan Speelman.
September 12, 2017
ESPN portrait of the strongest female player; Staff; ChessBase
"She has never really worked extremely hard," said Vladimir Kramnik, "and, of course, that's a big compliment — never working like the professional male top players and yet achieving so much." Chinese GM Hou Yifan, the greatest female talent in chess today, wants her life to be to be "rich and colorful, not narrow." In 2012 she enrolled in Peking University, and is now scheduled to do a course at the University of Chicago. Read all about her in this extensive ESPN article.
September 7, 2017
3 Of Emanuel Lasker's Greatest Hits; Jeremy Silman; Chess.com
I'm back with three more of my favorite Emanuel Lasker games. Remember that they might or might not be his best games. All that matters is that they are games that affected me over the years. Though Lasker was one of the greatest tacticians in history, and though he was also one of the best endgame players ever, his style was all about pressure. He loved to drag himself and his opponents to the edge of a precipice since he knew that most of his opponents couldn't handle the slippery slope Lasker created.
July 4 – September 7, 2017
Bobby Fischer in Iceland – 45 years ago; Frederic Friedel; ChessBase
In the final week of June 1972 the chess world was in turmoil. The match between World Champion Boris Spassky and his challenger Bobby Fischer was scheduled to begin, in the Icelandic capital of Reykjavik, on July 1st. But there was no sign of Fischer. The opening ceremony took place without him, and the first game, scheduled for July 2nd, was postponed. Then finally, in the early hours of July 4th, Fischer arrived. Frederic Friedel narrates.
More installments:
Segment #2
Segment #3
Segment #4
Segment #5
Segment #6
Segment #7
Segment #8
Segment #9
Segment #10
Segment #11
Segment #12
Segment #13
Segment #14
September 4, 2017
Spassky, Averbakh, Karjakin headline Moscow TV studio showcase; Macauley Peterson; ChessBase
Boris Spassky, Yury Averbakh, Sergey Karjakin and four-year-old Mikhail Osipov, were the headliners at a glitzy day of chess in the Moscow TV studio Ostankino (www.ostankino.ru) on Tuesday, August 29th
September 3, 2017
The Beautifully Useless Chess Piece; Gregory Serper; Chess.com
Strong and weak squares are a cornerstone of chess strategy. The definition of a weak square is very simple: it is any square that cannot be defended by a pawn. Usually such a weak square in our opponent's camp is the ideal place to put our pieces. Therefore our opponent's weak squares are actually strong squares for our pieces! In most cases it is the knight who benefits the most from being placed on such a strong square.
August 30
Chess Olympiads: Havana '66; Avatar: "Batgirl"; Chess.com
A look at the Chess Olympiad held in Havana in 1966. Amongst a slew of photographs, it includes a history of chess sponsorship in Cuba, a review of the global political context, a brief recap of outcomes as well as post-event perspectives from Larry Evans and Viktor Korchnoi, and then wraps up with a FBI report on Bobby Fischer. Its an interesting snapshot of mid-60s politics and chess.
August 30
Averbakh, Spassky, Karjakin & 4-year-old Misha; Colin McGourty; Chess24
The world's oldest grandmaster, 95-year-old Yuri Averbakh, played 4-year-old child star Misha Osipov yesterday, while Sergey Karjakin gave a simultaneous display and 80-year-old former World Champion Boris Spassky looked on. The remarkable meeting of the chess generations took place as part of a Day of Chess in the Ostankino TV studios in Moscow, helping ensure it was covered heavily in the Russian media.
August 29
Chess without borders; Marco Baldauf; ChessBase
"Schach ohne Grenzen" ("Chess without limits" or "Chess without borders") is the confident name and motto of a young club from Kufstein/Tyrol in Austria. The club wants to promote chess in general and junior chess in particular. This summer the club organised its fifth "Chess and Adventure Camp". Almost 90 kids took part.
August 28
Play Chess, Win Wine, And 9 Other Stories You Missed; Mike Klein; Chess.com
Summer is not the time for pros to take a vacation. With tournaments in Paris, Leuven, Biel, St. Louis, Dortmund, Danzhou, Geneva, Khanty-Mansiysk, and many others, the news section has been crowded with tales of 2700s and 2800s plying their trade. That's left a lot of other chess news stories in the file cabinet, and this edition of in other newsis the largest yet. Here are 10 topics from the last month that you may have missed.
August 27
Why Was Kasparov Deep Thinking?; Gregory Serper; Chess.com
In last week's article we stated the obvious fact that the Saint Louis Rapid and Blitz tournament was effectively ruined for Kasparov by his extremely poor time management. Today we'll try to figure out how such an experienced player like Kasparov could get himself in those extreme time troubles in every single game!
More Kasparov:
Chess.com
August 24
Kasparov in St. Louis: a Closer Look; Marco Baldauf; ChessBase
In 2005 Garry Kasparov, World Champion from 1985 to 2000 and arguably the best player of all times, withdrew from tournament chess. At the Grand Chess Tour Rapid- and Blitz Tournament in Saint Louis in August 2017 he dared a comeback and played a serious tournament again. His final score of 13.0/27 indicates that he was not as dominant as he used to be - but how good did he play, how good was his opening repertoire and did he miss chances? Let's take a closer look.
July 6 - August 23, 2017
World Champions: Exercises in Style; By Johannes Fischer; ChessBase
World Champions have style. At least, this is often claimed. Kasparov loved to attack, Karpov excelled in prophylaxis, Capablanca liked positional play crowned by a "petite combinaison", Tal loved intuitive sacrifices while Botvinnik preferred clear strategic plans. But do you recognize the style of the World Champions when you see only the moves of their games? Try it out!
More installments:
Segment #2 - Solutions
Segment #3
Segment #4 - Solutions
Segment #5
Segment #6 - Solutions
Segment #7

August 20
Remembering Rudolf Spielmann; Johannes Fischer; ChessBase
The Austrian Rudolf Spielmann was a brilliant attacking player and a predecessor of Mihail Tal. His book "Richtig Opfern!" (The Art of Sacrifice in Chess) is considered to be a classic of attacking chess. Spielmann died under tragic circumstances on 20. August 1942, 75 years ago.
August 17
Reader Questions, Gripes, And Advice; Jeremy Silman; Chess.com
I used to do a lot of reader question columns but, for some reason, I haven't done it in a long time. Why, I don't know. However, I'm finally in the mood to discuss some of the Chess.com members' thoughts.
August 16
The Man Who Built The Chess Machine; Jimmy Soni; Chess.com
If anyone has a claim to be considered the founder of the information age, Claude Shannondoes. In his groundbreaking work at the intersections of mathematics, engineering, and computer science, Shannon (1916-2001) laid the theoretical groundwork that made modern digital computers possible.
August 13
Indian 12-year-old prodigy crosses 2500; Sagar Shah; ChessBase
On 10th of August, R. Praggnanandhaa turned 12 years old, and crossed 2500 FIDE Elo. He has an opportunity to go after Sergey Karjakin's record as the youngest grandmaster ever. In Vlissingen, in the Zeeland province of southwest Netherlands last week, he dominated a simultaneous exhibition, scoring 20-0, then played the annual HZ Tournament there, narrowly missing a GM-norm.
August 10, 2017
Frank Marshall's 140th Anniversary; Andre Schulz; ChessBase
American Frank Marshall was born 140 years ago today. Marshall was an ingenious chess gentleman who enriched opening theory with gambits and immortalised himself with many splendid combinations.
August 10, 2017
World Chess wants to hook up grandmasters to heart monitors to make matches 'more exciting'; By Marissa Payne; Washington Post
Watching two grandmasters play chess can be a tedious affair, especially for those unfamiliar with the nuances of the game. But now organizers of the World Chess Championship, the game's largest and most prestigious event, have come up with a plan to make it more exciting for spectators — strap biometric monitors to the players.
ARCHIVES: Older Articles Have ... Moved.