ACC Club News
Our newswire covers club news and local tournaments as well as any particularly unique or interesting chess articles, videos and other items from around the web. We leave coverage of most other national and international events to TWIC, Chessbase and others, though we do cover really big events.
ACC Online:
For regular club news and announcements, send an e-mail to chrisney2@gmail.com to receive our semi-monthly newsletter.
NOTE: Have you read a poorly written sentence? Find a bad link? Are we missing important material? Please raise these issues with us at: chrisney2@gmail.com.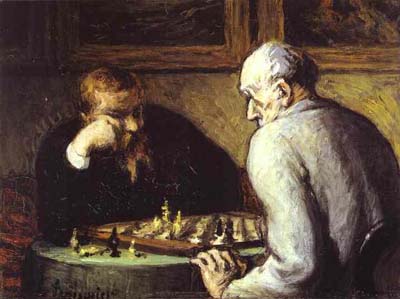 January 3, 2017
Vladas Mikėnas, Grandmaster Killer; By Staff; Chess24
Vladas Mikėnas was active in top level chess for five decades. He met all the World Champions from Lasker to Kasparov, beat Alekhine, Botvinnik, Petrosian, Smyslov and Tal, represented Lithuania on top board at five Olympiads and played in ten USSR Championships. Besides playing himself he was a theoretician, coached Keres and worked as an arbiter at such high profile events as the 1985 Karpov-Kasparov match. Laurynas Barkauskas' article on a legend of Baltic chess covers Mikėnas' "immortal game" and some anecdotes about his encounters with top players.
December 29, 2017
Which is the best game of 2017?; By André Schulz; ChessBase
In 2017 many fantastic games were played. We have selected ten of the best. What's your pick for game of the year? Vote for your favorite!
December 29, 2017
Which is the endgame of the year?; By André Schulz; ChessBase
Vote for the best endgame of 2017! As the year comes to a close, we are once again looking for the chess events and personalities of the year, more precisely here, move of the year, the game of the year, the endgame of the year, and the player of the year. Join in and vote for your favorites.
December 28, 2017
Beware Of Undefended Pieces; By Jeremy Silman; Chess.com
Players from 1600 all the way down to beginner dream of hitting the 2000 mark but, alas, they rarely even get close. Most look at chess books, though they often find that their book isn't very helpful. Others just play a lot of blitz, hoping that experience will carry them to the promised land. And others think that their chess books were okay, though their rating doesn't move an inch. Frustrating, isn't it? Allow me to help you escape this rut. Ready? Okay, here we go: Put the books down! Ignore the authorities. In fact, before doing all the stuff everyone recommends, you first need to fix the most deepest, darkest problems in your game.
December 28, 2017
What was the move of 2017?; By André Schulz; ChessBase
As 2017 comes to a close, we are once again looking for the chess events and personalities of the year, more precisely here, move of the year, the game of the year, the endgame of the year, and the player of the year. Join in and vote for your favorites. First up: Move of the year!
December 26, 2017
FIDE's Riyadh Gambit; By Macauley Peterson; ChessBase
More: Chess.com
The World Rapid Championship attracted significant international media attention as it began on Tuesday in Riyadh, Saudi Arabia, but the focus was mostly centred around the absence of Women's World Rapid and Blitz Champion Anna Muzychuk, and all players from Israel, who were denied visas to travel to the country.
December 26, 2017
John Nunn puzzles – the solutions; By Frederic Friedel; ChessBase
A little over a week ago we told you about the activities of our English friend, mathematician, grandmaster, author and publisher. He is also a world champion chess problem solver, and a composer – which is why we gave you a selection of his problems and studies. Today, as a Christmas puzzle week present, you get the solutions, annotated by John, as well as the answers to his logical and mathematical problems. And the lovely knight tour questions. Only one reader solved a majority of the tasks, and he gets the personally dedicated book from John.
December 25, 2017
Pal Benko's Christmas problems; By Frederic Friedel; ChessBase
Every year Pal Benko, grandmaster, former World Championship candidate, and one of the best problem composers in the world, sends our readers very special seasonal greetings. They come in the form of chess problems in which the pieces represent figures – this time a Christmas tree and candles. It is the start of our Christmas puzzle week, which we bring you for the eighteenth year in succession. Prepare for puzzles that cannot be easily solved with a computer, tasks which require you to think all by yourself. And a nostalgic look to the past.
December 24, 2017
Morozevich on trying things other than chess; By Colin McGourty; Chess24
Alexander Morozevich is still only 40, but in recent years has been missing from the very highest level of chess. In a new interview he reveals that while not abandoning chess he took the life decision to try out new things rather than continuing to devote himself entirely to the game. He also talks about the 2018 Candidates Tournament, Carlsen and the young generation of Russian players, noting that Vladislav Artemiev struck him as the most talented but has struggled to build on that talent in the last three years.
December 23, 2017
A Short trip to Kyrgyzstan; By Alexandra Samaganova; ChessBase
Nigel Short got to cross another country off his already impressive list (now at 123 countries at last check) as he made his first foray to Kyrgyzstan in November at the invitation of MiniChess Central Asia. Alexandra Samanagova's photo report shows a jam-packed five day tour.
December 23, 2017
Mamedyarov ends 2017 on new high; By Colin McGourty; Chess24
Shakhriyar Mamedyarov will go into 2018 with a new lifetime best official rating of 2804 after starring as the Kings beat the Princes in the classical section of the Nutcracker Battle of the Generations. The world no. 3 scored three wins and was close to four, but the Kings were prevented from sealing the match by Sergei Rublevsky losing to Andrey Esipenko, Grigoriy Oparin and Vladislav Artemiev. Eight rounds of rapid chess will now decide the match.
December 22, 2017
The Secret of Chess (?); By David Smerdon; ChessBase
Other chess reviewers have been at best dismissal and at worst harshly critical of The Secret of Chess, by Lyudmil Tsvetkov. However, according to GM David Smerdon, this book is a one of a kind work that legitimately has the potential to revolutionize how we think about chess.
December 21, 2017
Interview: Svidler; By Colin McGourty; Chess24
Peter Svidler recently won the Russian Championship for an 8th time, setting a record that's going to be extremely tough to beat. Afterwards he gave a fascinating interview to Fontanka.ru where he discussed not only the latest championship but his first successes in the 1990s, how his university career was cut short, his first encounter with Garry Kasparov and how Kirsan Ilyumzhinov's alleged alien abduction affected chess.
December 21, 2017
Efim Geller vs Bobby Fischer; By Jeremy Silman; Chess.com
Geller was a fantastic opening theoretician and, as a result, he was a master of many openings, with the Sicilian (on both sides!) being his main money-earner. He has played a zillion Sicilians from both sides of the board. So, instead of overwhelming you with hundreds of Sicilian pages, I'll show you how Geller played the Sicilian by posting all of his decisive games against Fischer.
December 19, 2017
Vlastimil Hort remembers Vasja Pirc; By Vlastimil Hort; ChessBase
Vasja Pirc was born 110 years ago today. His name is immortalised in the opening theory, but the man himself is almost forgotten, although the Slovenian history professor was at times one of the best players in the world. Vlastimil Hort has met the wine-lover and remembers.
December 18, 2017
Alleged Cheater Expelled From Spanish Tournament; By Peter Doggers; Chess.com
An amateur chess player was expelled from a chess tournament in Benidorm, Spain after an electronic device similar to a TV remote control was found in his pants. The player, who was a participant of the B tournament for players with an Elo below 2000, was checked by arbiters after suspicions of possible cheating. At times his games had shown a level of play much higher than is rating.
December 17, 2017
Nunn problems: solutions and compositions; By Frederic Friedel; ChessBase
Last week we gave you some interesting problems to solve, today we bring you the solutions thereof. And some logical puzzles, which the veteran Super-GM gave us during spectacular walks along the cliffs of Cornwall. For some we need mathematical assistance and invite our readers to provide this. Finally a selection of prize-winning compositions, published over the years, by John Nunn himself. If you do participate there is a a very nice personal prize to win.
December 15, 2017
A year of Perpetual Chess (Podcast) ; By Macauley Peterson; ChessBase
Chess podcasting is still in its infancy, even as the medium as a whole gains mainstream adoption. In the past year, Ben Johnson's Perpetual Chess Pod has racked up and impressive guest list and a dedicated fan following. This week Ben released his 51st episode and the first episode dropped a year ago on December 15th, 2016.
December 15, 2017
Efim Geller, Killer On The Chessboard; By Jeremy Silman; Chess.com
Lately I've experienced the same thing when I talk to young (10 to 20 years old) chess players: Have you read Eugene Znosko-Borovsky's books? — "What is a Borovsky?" Have you studied the games of Leonid Stein? — "Who?" How about Isaac Boleslavsky? — "A bowl of what?" In my mind, if you don't know all the greats from the past, then you're missing the heart and soul of what chess is about.
December 14, 2017
Hort interviews Geurt Gijssen; By Vlastimil Hort; ChessBase
Geurt Gijssen is one of the most renowned chess arbiters and during his active time witnessed many dramatic and historical moments of chess history. In an interview Vlastimil Hort asked the veteran arbiter about his career, his passion for chess, and his take on incidents and scandals in recent chess history.
December 14, 2017
Interview: Nepomniachtchi ; By Colin McGourty; Chess24
After a tough year Russia's Ian Nepomniachtchi scored a triumph in the London Chess Classic, finishing tied for first and sharing the prize money with Fabiano Caruana before missing out on the trophy in the playoff. He gave an interview afterwards where he talked about the tournament, why Magnus Carlsen has stopped dominating in the way he used to and why he's not as impressed with AlphaZero as some of his colleagues.
December 13, 2017
The Most Beautiful Chess Book; By Anna Rudolph; Chess.com
It's a chess book like no other, a visual tribute to the royal game. The book is 208 pages of Fedrigoni paper filled with tension in the eyes of silent protagonists. Club players, Olympic members, world champions. All focused, deep in thought, pondering their next move over the black and white board. I met the author, the renowned chess photographer David Llada in Madrid to ask him about his journey toward chess photography and the publication that is now called the most beautiful chess book ever printed: the Thinkers.
December 13, 2018
Kasparov on Deep Learning in chess; By Frederic Friedel; ChessBase
More: Chess.com
Garry Kasparov's match against the IBM computer Deep Blue was considered a milestone in Artificial Intelligence, a watershed moment. But was it really that? Kasparov has written a number of best-selling books on chess and other subjects, but his latest work, Deep Thinking, could be the most important one. It puts his 1997 defeat at the hands of a brute force computer and the latest development of self-learning systems into perspective. Who do you think is the ideal person to review this book?
December 12, 2017
Andrey Filatov on FIDE elections; By Oleg Bogatov; R-Sport via ChessDom
Four or five candidates may run for President of the International Chess Federation (FIDE) in the election to be held at the General Assembly of the organization in 2018, the President of the Russian Chess Federation (RCF) Andrey Filatov told R-Sport. The election will be held during the World Chess Olympiad in 2018 in Batumi, Georgia. The permanent president of the organization since 1995 is Kirsan Ilyumzhinov, who earlier announced his decision to run again.
December 10, 2017
The Ugly Castle; By Gregory Serper; Chess.com
Even beginners know that castling is a very important part of an opening strategy since it moves your king away from the center into a comfortable home created by a rook and three pawns. But what if the new king's house is not so cozy, since the roof provided by the three pawns has a huge hole in it?
December 9, 2017
The 7 Most Amazing Chess Records; By Sam Copeland; Chess.com
Records inspire us all to strive for greatness. The long legacy of chess has birthed some records which have stood for decades, and some that may well stand for centuries. Here are seven of the most amazing chess records ever etched into history.
December 9, 2017
Morocco Chess Federation hit with corruption troubles; By Diana Mihajlova; ChessBase
Part 2: Chessbase
The Royal Morocco Chess Federation has been in discord since members of its governing body raised the alarm over impropriety on the part of its leadership, including the disappearance of the equivalent of $200,000 US Dollars. Diana Mihajlova reports on a host of allegations which have beset the federation's president Mustapha Amazzal. This is part one of a two-part chronicle.
December 8, 2017
How Can An Expert Become A Master?; By Jeremy Silman; Chess.com
I've had students in the 2000-to-2200 range who gave up chess completely when they entered university or college. Then, once they got a degree, they might return to the game or toss it away permanently. Of course, many strong players in university or college continue to play in tournaments or for their school's team.
December 8, 2017
John Nunn these days; By Frederic Friedel; ChessBase
At 15 he was Oxford University's youngest undergraduate since Cardinal Wolsey in 1520; and at 23 he did his doctorate in algebraic topology — and achieved his final grandmaster norm. He went on to become one of the top ten players in the world, and a world champion chess problem solver. Today John Nunn, at 62, is slowly gliding into retirement (from his chess publishing business), but that does not mean sitting idly around. He is addicted to rational thinking, puzzles, mathematics and beautiful vacations.
December 6, 2017
How XiangQi can improve your chess; By Davide Nastasio; ChessBase
Caruana, Ivanchuk, Nielsen are all learning and playing different forms of chess to keep their chess at the top in terms of interest and creativity. In this article you'll discover a form of chess played by more than 100 million Chinese just in China, but also in many other countries in the world like: Singapore, Vietnam, Taiwan etc. It's very easy to learn, but like the version most dear to our hearts, it takes a lifetime to master! Here's the backstory from Davide Nastasio plus five reasons chess players specifically should play XiangQi.
December 5, 2017
Pillsbury: enormous talent, early death; By André Schulz; ChessBase
Henry Nelson Pillsbury was one of the strongest players of his time who never became World Champion. He impressed his contemporaries with his fantastic memory and his amazing blindfold exhibitions. He died at only 33 years of age from syphilis, and suffering from mental illness. Today, December 5, 2017, would be his 145th birthday.
December 4, 2017
Vera Menchik, A Biography; By Davide Nastasio; ChessBase
A biography on the first Women's World Champion Vera Menchik offers the chance to know more about the chess world of nearly 100 years ago. Women in chess have a rich history, and this book paints a great historical portrait, showing us beautiful games played by Miss Menchik against top chess players of her day. Davide Nastasio has the review.
ARCHIVES: Older Articles Have ... Moved.